Graduate School of Contemporary Okinawa Studies
Based on Okinawa University's core principle of working "toward a university of regional and future co-creation," our goal is to perform research and provide education that tangibly pursues policies for regional revitalization through a local-, network-, and interdisciplinary-focused approach based on close cooperation with regional society. We have established two master's programs.
Master of Area Studies
The goal of the education and research in the Master of Area Studies is to elucidate the modern cultural issues of Okinawa by investigating issues in Okinawan politics, societal structure, culture, and history by looking at Okinawa as a part of East Asia.
Master of Regional Management
The Master of Regional Management was established with the concept of "regional management." It encompasses a broad investigation of Okinawan problems and issues from the perspectives of law, economic management, health/welfare, etc. The goal of the education and research is to consider the issues related to the implementation of specific policies of local governments and policies for environments, community development, etc.
Research environment and student support
Taking courses
Courses are held in weekday evenings and on Saturdays
In order to respond to the needs of working students pursuing advanced education and knowledge or qualifications and of individuals interested in lifelong learning, lecture courses and seminars are generally held during the sixth and seventh periods on weekdays (6:30 pm to 9:40 pm) and periods three, four, five, and six on Saturdays (1:00 pm to 8 pm).
Credit transfer agreements
The following graduate schools have a credit transfer agreement to allow students to get up to 10 credits without additional tuition costs: Okinawa University (Contemporary Okinawa Studies), University of the Ryukyus (Graduate School of Humanities and Social Sciences), Okinawa International University (Graduate School of Regional Culture, Graduate School of Regional Business and Economics, Graduate School of Law), and Meio University (Graduate School of International Cultural Studies).
Graduate student research room
We have a graduate student research room with desks provided exclusively for student use. The research room also has computers for shared use that are connected to LAN, allowing internet use. Students can also use the computer rooms on campus.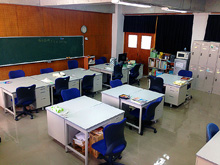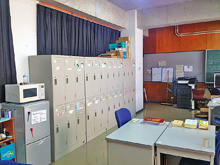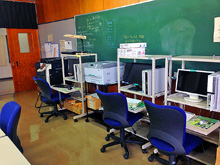 Special research report
Special research report can be completed as an alternative to a master's thesis. Special research is where the student selects a theme based on their overall skills developed through experience in creating case-study reports in lecture courses and research introductory seminars. The student independently engages in investigative research and completes a report.
Scholarships and financial aid
Okinawa University has its own scholarship system in place. In most cases, the scholarship is a stipend that does not need to be paid back.
○ Okinawa University Graduate School Research Scholarship
○ Okinawa University Alumni Scholarship
○ Scholarship for Privately-financed International Students
○ JASSO Scholarship
Individuals who were recommended as writers of a notably superior graduate thesis; special research report; or paper, etc., based on one that resulted in publication are awarded one million yen, and new students in a doctoral program who were recommended because they compiled a notably superior dissertation and their future research activities warrant support are awarded 500,000 yen to support their research activities after graduation. Students can apply within five years of completing their graduate course.
Course through conferment of degree
In order to complete the Contemporary Okinawa Studies course, students must be enrolled for at least two years, complete at least 30 credits, undergo research guidance, submit a master's thesis or special research report, and pass the corresponding review and final examination. Individuals who complete the Master of Regional Management are awarded a master's degree in Regional Management, and individuals who complete the Master of Area Studies are awarded a master's degree in Regional Studies.
Year one
| | |
| --- | --- |
| <April> | Determination of advisor |
| <October> | Mid-term presentation of master's thesis or special research |
Year two
| | |
| --- | --- |
| <June> | Mid-term presentation of master's thesis or special research |
| <October> | Mid-term presentation of master's thesis or special research |
| <January> | Submission of master's thesis or special research report |
| <February> | Review of master's thesis or special research report, final examination |
| <March> | Awarding of degree |